One of my favourite things to tell people of late is how things are 'on trend'. I say it with complete irony of course (this may not always translate: everyone I am taking the piss. I haven't become one of
those
bloggers yet) but usually it's true. So now, without further adieu, I bring you the brilliant trend spot of the moment: Sneakers.
That was very anti-climatic wasn't it? Who cares about sneakers if you're not one of the homeboys, you say? Not all of us like to 'kick it' or 'keep it fresh', right? Wrong. We all do. I'm feeling self righteous enough today to speak on behalf of the world. So to spit on your non-believer smut I'm going to show you what a proper sneaker looks like. The kind of sneaker you would never run, play sport, summersault.. hell you wouldn't even want to walk in them. More than that, I'd probably put them in a glass dome and have them sitting in the living room for 'sneaker parties', events where I'd force my family and friends to sit and discuss the importance and profundity of my sneakers. Thank god I don't have a spare 7 fitty to spend on a pair on canvas Lanvin shoes because I'd also be buying loneliness. Who says you can't put a price on that? This sounds like a damaging game I should start playing with my friends: how much money would it take for you to stop hanging out with me? I feel it's nice to test friendships sometimes. Anyway back to ridiculous (fabulous) sneakers. So everyone is getting involved, that's right it's not just Nike and Adidas left to get footloose (I can't believe I just said that), the tootsie roll continues with all the big boys: Chloe, Lanvin, Isabel Marant, Maison Martin Margiela and they're doing some wicked cool things down below the belt. Waaaaay bellow the belt. Where things stop getting sexy and start getting fetishy and weird.
But fun. Plainly. So kick back, relax, and let the good time's roll (walk briskly):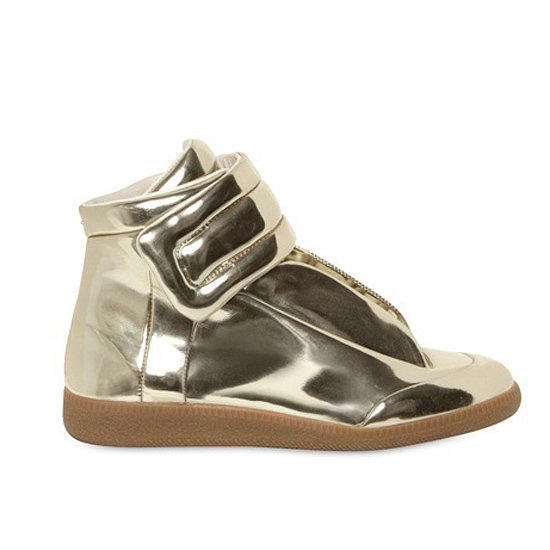 Maison Martin Margiela
You know those mornings when you wake up and think: 'I wish my feet were gold nuggets'? Problem solved.
Jeremy Scott for Adidas 'Bear Brown' shoes
Why not wear bears on your feet? Give me a legit reason and I'll give you a legit slap in the face.
Jeremy Scott X Adidas 2.0 Flame Fire
Oh god, for a second there I thought you were running SO FAST that you actually CAUGHT on FIRE but it's just your shoes. Nice shoes, man.
Puma 'First Round Kynya Jnr'
Gone are the days where the age old rule of pink and purple and yellow and green leopard print should never be seen on the one foot together. Those days are dead people. The revolution is upon us.
Isabel Marant 'Willow High Top Sneaker'
Unfortunately where I live the marriage laws are still a little behind the times. It's true, people are not allowed to marry their shoes. But If I could, Willow and I have discussed it, and we've decided we're in love. I retract all hateful statements I made about sneaker heels and velcro. Nothing can deter my love for this shoe and all it's boyish suede charm.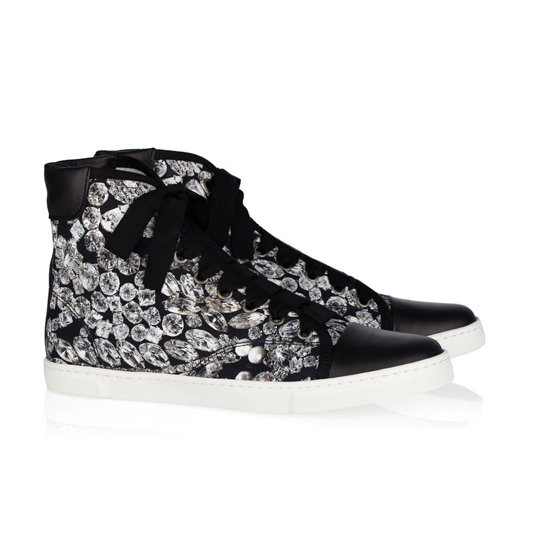 Lanvin Diamond Print canvas&leather sneakers
But then we're 10 years down the track. Willow's fading round the edges, had to have some work done on her sole's, she's not getting any younger. We're sleeping in separate rooms every other night. And then one day this minxy secretary from level 3 struts up to my office and something comes over me. Something no amount of yellow sports cars and 10 ft. yachts can fix... Suddenly diamonds and I are more than just friends...
xxL.