Sometimes what I like to do is disappear out of a person's life until they've forgotten absolutely anything memorable about me and then jump back in with such vigour and crazed enthusiasm that they never want to see me again. So, If I haven't finally killed off the stragglers that are my dwindling readership, I feel I may have successfully done so now. If anyone is still on board I commend you and if you have a European passport we should get married. If you don't then I could probably do better so forget about it. Just forget about it.
And now you ask, bleary eyed, why have I disappointed you so? Why did I leave? No note, no goodbye? Well with 3 jobs and full time uni I think you'd be disappointing me too so perhaps we'll step back out of the attitude suit and try a little understanding and forgiveness, huh kids? What's more important is that I, like every wayward mother, has come back to her tribe (definitely calling my family a 'tribe'). And without anymore delayed gratification I will bring you what your little hearts have been craving- a young and cynical post.
So recently I've been feeling the call of the wild. If by wild you mean completely unnatural, manufactured and inorganic then yes, that call has been heard. I am, of course (yeah..right..) talking about fluorescent colour schemes, or as the kids like to call it, 'fluro-eccy-fun-time' or 'fluro' for short (everyone knows that's what fluro is really short for). Now I know this isn't exactly a new trend, we all remember the not long enough ago stint of classy young lasses attending sophisticated outdoor soirees known as 'festivals', wearing denim underwear with hot 'fluro' pink
bandeaus
(whatever the fuck they are NOT TOPS LADIES unless you're Prada in which case rock on with the bandeau tops you amaze me) and ingesting certain energetic supplements with names like 'dragon speed' and 'pink firebolt'. As this was such a memorable and indeed
proud
moment in my generations history I feel I should give a nod to circa 2007 with a 'fluro' tribute post.
Of course, I'm aware this has been in that big ol' fashion world for a while now but I refused to be a part of it for quite some time. It is only now, when it is most likely on it's way out, that I have decided to lap up the dregs of the fluro jet ski (I say jet ski because I reckon it'd be a lot faster than a train and honestly, how long does fluro ever stay in fashion for anyway?). I remember my attention first being turned to fluroescent trending when my dad had a whole table of fluro gear ready to be shot and I complained to the stylist about how horrible it was and she looked like she wanted to boot my sorry ass out of the studio but of course she couldn't do that because she was working with my dad long story short I didn't like it BUT NOW dear readers OH NOW I am a born again fluro, a lover of the floz. Schlang me an obnoxious pink or sickly yellow and I'll hit you with a thumbs up and maybe even a kowabunga hand shake. And I won't leave it there, oh no, anything neon, bright, garish or offensive is now my cup of joe. The bigger the print the better, I've welcomed with open arms the sentimental, patriotic and nostalgia of Prada and D&G, dreamed of umbrella sporting cocktails with Stella McCartney and Mary Katrantzou and any kind of hot coloured pant/skirt/top/hair/sock has been turning any frown of mine upside down. Was that the lamest sentence you've ever read? Possibly, but what can I say, there is something about these horrible eyesores that makes my heart giddy-up and my vocabulary become a dad-joke inspired place of optimistic joy.
Cambridge Satchel Company
The Fluro
£105.00
Proenza Schouler Printed Canvas bag
£
578.60
Marc by Marc Jacobs
£310.97
River Island from Asos $24.33
Fairground from Asos skirt: $89.21 and top: $68.12
Mary Katrantzou Spring 2012 RTW
Prada Spring 2012 RTW
Michael Kors Resort 2012
And of course, D&G:
Spring 2012 RTW
Who have also done one of the best add campaigns I've seen in a long time. Excluding of course anything for Prada but we all know how I feel about Prada. I think I'll make a blog purely for rating Prada against itself. No one loses in that competition.
D&G Spring 2012 campaign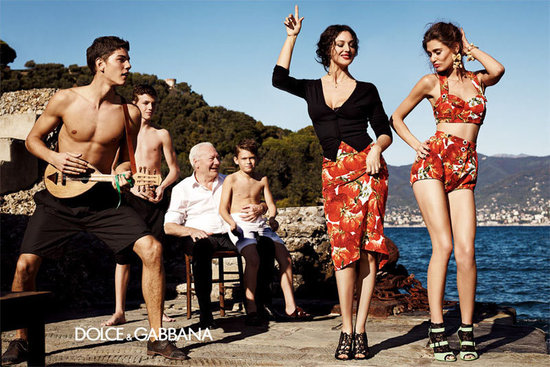 This makes me want to be a spunky Italian mother who looks shockingly similar in age to her spunky Italian daughter. This, of course, being my reality when I have a child. We'll get mistaken for sisters while we rock around in our matching tomato and eggplant print skirts. Gonna be excellent my friends, can't wait to be a mother. Nor can I wait to be able to afford D&G. Yeah, that's more like it.
xxL.
Credits: net-a-porter.com, style.com, fashionologie.com, asos.com,